The new CABAL Online contents – Episode V : Mercenaries - will go live on Cabal PH servers on December 16th. Episode V continues to add exciting new contents for players of all levels to enjoy, including NPC mercenaries, a mailing system and a complete overhaul to the dungeons and drop rate systems.
Continue reading for a full list of the more significant new features of this update.
Mercenary System
The Mercenaries are NPCs which help you clear dungeons. They aid you in various ways, by attacking monsters that are attacking the player, or by giving buffs to the party or player. In order to summon them you need to have a Mercenary card registered on the Mercenary slot. Basic Mercenary cards can be earned from quests and rarer ones are dropped from dungeons, so it would be a good challenge to try collecting them all.
Each Mercenary is recognized as a party member, so the users cannot excess the maximum party members 7 including Mercenaries.
EX) The maximum Mercenary summon number of a 4 party member dungeon play is 3.
There are four grades to each Mercenary: Normal, Rare, Epic and Unique
Each Mercenary offers various type of assistance.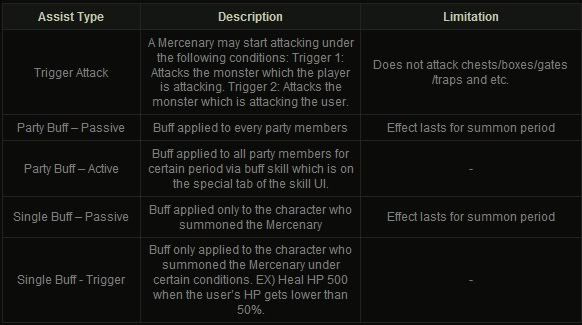 Reformed Dungeon Drops
By popular demand, item drops from the following dungeons have been completely reformed:
Illusion Castle Underworld, Illusion Castle Radiant Hall, Altar of Sienna B1F, Altar of Sienna B2F, and Forbidden Island.
#
General
# Big increase in the drop rate of epic equipments.
# Every epic equipment becomes character binding upon use.
# All weapons, armors randomly drop with +0~+5 upgrade level.
# Greater epic option can be applied to SIGMetal or lower grade equipments dropped.
* for example, the epic option value of Mystic Headpiece of Deathblow(Critical DMG UP) may be up to 18% Critical DMG.
# Slot Extender Highest can be dropped.
#
Illusion Castle Underworld
# Big increase in the drop rate of the unique item Laikanus weapon series.
# Drops Rare grade epic equipments (with up to 2 slots)
#
Altar of Siena B1F
# Drops Rare grade epic equipments (with up to 2 slots)
#
Forbidden Island
# Drops SIGMetal grade epic equipments (with up to 2 slots)
#
Altar of Siena B2F
# Drops SIGMetal grade epic equipments (with up to 2 slots)
# Drops Essence Rune (Max Critical Rate Up)
#
Illusion Castle Radiant Hall
# Drops Forcium grade epic equipments (with up to 2 slots)
# Drops Essence Rune (Critical DMG)
# Big increase in the drop rate of the unique item Drosnin's Earrings.
Dungeon Difficulty Adjustment
Difficulty levels of the following party play dungeons have been modified: Illusion Castle Underworld, Illusion Castle Radiant Hall, Altar of Sienna B1F, Altar of Sienna B2F, and Forbidden Island. The modification will surely enable players to run the dungeons with more speed and excitement. For some skilled users, they might even be able to clear the dungeons in solo.
Mission War Contribution Officers
In addition to EXP, Skill EXP, or Honor EXP that you were able to receive in exchange of WEXPs, you can now receive Armor/Essence Rune Cubes from the newly added Contribution Officers. The new NPCs, Contribution Officer Olivia (Capella) and Contribution Officer Kyle (Procyon), are on the Mission War Lobby and you can exchange the following items from them: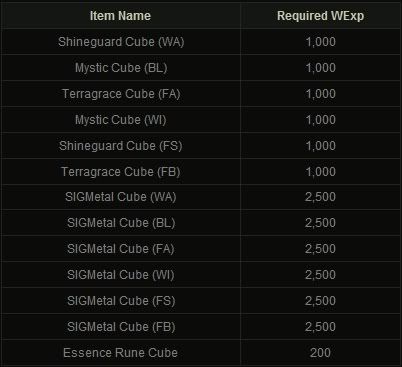 All of items from cubes are character binding except those from Essence Rune Cubes.
4 types of armor is given from the Cube at 25% chance each
You can get up to 2 slotted 8% amp. equipments from the cubes.
Dungeon Related Functions
We have been gathering suggestions from users and we have managed to apply the most frequently suggested ones on this update. Now the players will be able to enjoy the new dungeon related functions:
* Dungeon Information UI
* This informs the players about dungeons that can be entered, required Lv or entry items of dungeons and others. Players can also view the location of the dungeon from the UI.
# Exit Button added on the Dungeon Start UI
# Now if players have mistakenly entered a dungeon, they can leave the dungeon without losing the entry card by pressing the Exit button on the UI popped up at the starting point.
# Dungeon Records
# Now you will be able to gain publicity by clearing dungeons faster than others! Each dungeon entrance UI now shows the clear ranking records. There are single/party ranking records, and they are renewed every hour.
Top 10 Runners of the Dungeons are shown to everyone entering the dungeon.
# Dungeon Pause
# Now you don't have to ignore those telephone calls when playing in a dungeon in solo. Simply press ' , ' key to pause the dungeon. Please be noted that you cannot use any other functions except chatting during the pause and this function cannot be used during party play.
# Exit Dungeon
# No more logging off to leave the dungeon! Just click "Exit Dungeon" from CABAL Menu > Dungeon. (This won't give you back the already used entry item.)
Dual Pet Equip System
Now equipping two pets at the same time is possible! Using the 'Pet Slot Extender' enables you to use the additional pet slot. When 2 pets are equipped, both of the pets appear in game and gain Pet EXP, but only the pet on the basic slot affects the character.
New Unique Ring
Another unique ring that is definitely worth challenging has been added. If you bring the "Ring of Evil Spirit 2" dropped from Leth Tyrant (the final boss monster of FT2) to the core alchemist Sullivan in Desert Scream, she will give you the "Ring of the Tyrant" in exchange. The new ring's options surely surpass every other existing rings' in the game.

Equipment View Function
Put the mouse cursor over the equipment to see its details.
Have you ever been curious about what your guild member's equipments are? Now you can view other character's equipped items using the 'view equipment' function. This function is shown when you right click on a character name in the buddies, guild, or chatting tab.
In case that you don't want others to see your gears, you can disable the function in the options menu, by un-checking "Allow View Equipment."
Mailing System Improvement
Now you are able to send mails to other characters. You can even attach alz or items to the mails Small fee is charged when attachments are sent.
New Essence Runes
* Max Critical Rate Up Rune
* - Usable above Lv. 147
#

# Critical DMG Rune
# - Usable above Lv. 147
#

Details of Additional Soul Quest
* Start NPC : Rune Agent Flasha in Bloody Ice
* Start item : Plate of Soul
* Start Lv. : 160
*

Details of Additional Honor Quests

Honor Quests Made Easier
Decreased the required quantity and increased the drop rate of honor plates for certain honor quests.

Increased Essence Rune Slot No.
You don't need to worry about which essence rune you should take off to equip the newly added runes. We have increased the number of Essence Rune Slots by 2.
AP Cap Increase
Now you can accumulate more APs than before. (500 -> 700)
Increased AP cap and Essence Slot
Character Buff Saving Function
The buff effects will not be erased upon character log out. This applies to buff potions also.
New Option to Disable Basic Attack during Auto Attack
Now you can say goodbye to those unwanted deaths caused by basic attacks
Miscellaneous
Now you can move to other channels without going to the server select screen.
Users are now able to use movement skills (Dash/Blink) in Towns, Warp Centers, and Safety Areas.
Function of using Core Enhancers in large quantity added.
- Designate the quantity use by right clicking on Core Enhancers.
Changed Skill UI to be able to be re-ordered by drag-dropping skill icons.
For more information, please read
the Patch Notes
and the
Developers' Notes
Credits:
Cabal NA

Dish Network Internet
High speed internet for all your online gaming needs.