Many people have been requesting for Blade and Soul. Players are practically begging gaming managements to acquire this highly anticipated MMORPG.
Considering that it is still under development, it sure is making so much noise in the online gaming scene.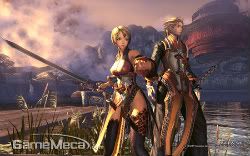 Blade and Soul is under development by NCSoft, and the characters in this oriental style MMORPG are designed by the well-known illustrator Hyung Tae Kim. It is set in an oriental fantasy world and will use Unreal Engine 3.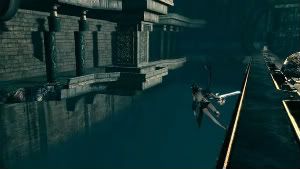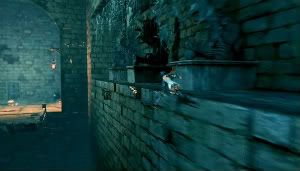 The game also features a Flying Skill
The game will officially be announced on the 13th of July this year and is expected to begin Close Beta Testing on the 4th Quarter of this year, while the official launch will be on 2010.
Races:
There will be three races for players to choose from but only two have been officially revealed, namely Jin and Gon. The third race, with fox-like features, will be implemented, possibly for higher level characters.
Jin - Visually similar to humans, Jin specialize in sword-based combat.
Gon - Physically stronger and larger than Jin, Gon specialize in hand-to-hand combat.
Unnamed Fox-like Race - Small and petite characters with fox-like tails and ears, they seem to specialize in speed-based combat. There is speculation that they can transform into a fox-like were-form as seen in the trailer.
Video Secrets:
If you run the video slowly, you will be able to identify an undisclosed class and see arrows and cones which serves unknown purposes.
1. The 3rd Race
The small character who appeared in the video to be one of the undisclosed race.
Its weapons and special characteristics are still unknown, but the video showed us this new race
Also, Gon's ability to grow horns is one of its race-specific skill, probably could result in a different number of race-specific skill to each race.
2. The Mysterious Pointer
If you watch the video frame by frame, you will be able to see the mysterious pointer/arrow.
In the video, the arrow appears 3 times and colored differently. We have no clue what it does. Since it shows up near mobs, we think it indicates certain skills are usable.
3. Cone indicator
We were also able to locate couple cone-shaed-pointers. The cone–which appears a total of 4 times–indicates places where the characters land from jumps or the "swift jump" skill.
In the video, we noticed that characters always landed on the spot indicated by the cone after running along a wall. This appears twice in the video.
4. Transformation?
The video also includes scene where a wolf-like character running. It's little odd that a mob is running at full speed for no reason. Also, the camera was fixed to the character, so we concluded that it's a user-controlled character.
6. The Clan System
We were also able to spot a group of characters from one clan. Clan is indicated as [Clan Name].
7. Races
Jin
The first class revealed was Jin who uses sword. Jin has slashing, piercing, throwing, and rushing skills. Also, there is a skill that attacks multiple opponents simultaneously and that summons swords which appears to be a race-specific skill.
There also seems to be a skill that attacks all the enemies behind the primary target. You can see the above same damage effect of 291 on two characters.
This is the most flashy attacking skill seen in the video. Apparently, the character was beaten to death by the mobs soon after using the skill. It's supposed to be a finishing skill.
Jin can also rush with a sword in hand.
There is a sword throwing skill. The sword returns after giving damaging to the opponent.
Jin's race-specific skill which summons multiple swords. Although it is possible that they are merely spirits of the sword.
Gon
The 2nd class revealed was Gon. Gon uniqueness comes from its glove-like weapons. There is a blocking, moving [behind the opponent], massive pounding, and mid-air combo skills. There is a race-specific skill which grows horns from their back. Despite its colorful effect, its purpose is unknown.
Gon blocks the enemy attack. With a sound effect, the attacker is momentarily stunned.
This character carves a Chinese character on the ground by stomping. It is supposed to attack enemies in front.
The female Gon pushes back the opponent with her back. It has a stunning visual effect.
The famous pounding scene. The skill includes face-punching, two-hand smash, and arm-breaking which casts like a combo. It also includes a head-butt.
A move skill that allows you to move behind or to a side an enemy. It does not do any damage, but you can quickly shift your position.
The race-skill that grows horns. It casts with a fantastic visual effect, but its uses is unknown.
Filipino Gaming?
My insiders have informed me that Level Up Games is keen on acquiring Blade and Soul - they already have their eye on it since late December of this year. Allegedly, they have been talking to the bosses of NCSoft to gear for a simultaneous CBT with Korea. This means that the Filipino gamers might be given the chance to be among the world's first to have the look and feel of how awesome this game actually is.
No confirmation has been made yet regarding this information, but whether or not Filipinos get to be among the international beta testers does not matter much as long as any local gaming company actually wants to welcome Blade and Soul into our local scene.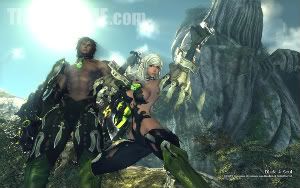 Credit:
MMOSite
,
BasCentral
,
BnS
and
NCSoft